Christmas cleaning before and after the holiday is always a bittersweet experience for me. On the one hand, it's sad to say goodbye to the holiday magic. However, it always feels great to reclaim the space that the Christmas tree occupies!
Whatever your feelings are on the subject, Christmas cleaning before and after the holiday is a task that must be completed. However, instead of viewing it as a chore, consider it an opportunity! There are several things you can do to not only make your cleanup more enjoyable but also to position yourself for success when the holidays return the following year.
Check out these helpful hints for making the most of your Christmas cleaning before and after the holiday.
Christmas Cleaning Before the Holiday Tips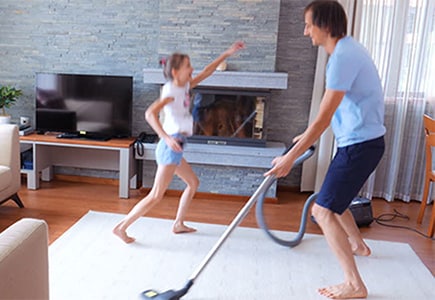 It's that time of year once more. You'll be preoccupied with shopping for friends and family. You should also think about the best Christmas decorations to create a festive atmosphere in your home.
You might be thinking about the wonderful celebration you'll be having with your family. Among the many things you must attend to during the holiday season, you must also attend to Christmas cleaning. Whether you like it or not, you must ensure that your home is spotless in preparation for hosting a Christmas celebration for family and friends.
Cleaning during the busiest time of year can be stressful, so here are some cleaning tips for the holiday season to help you relax:
1. Declutter
After you've made a list of what needs to be done, the next step is to put everything back in its proper place. Organising each room will aid in the cleaning process. You won't have to waste time rearranging or moving items from one location to another.
You will be able to clear things out by organising your home. It may not be ideal during the holiday season, but a thorough clean-up will allow you to discard items that you no longer require, freeing up space for your Christmas decorations. You'll be surprised at how revitalising a thorough cleaning can be.
This will allow you to begin the New Year with a clean home.
2. All Surfaces Should Be Cleaned and Sanitised
Countertops will receive a lot of attention during the holiday season. Before the big day, make sure you thoroughly clean them. It is critical to immediately wipe down kitchen surfaces after preparing food.
This is because raw meat tends to leave germs and bacteria behind. Make sure to thoroughly clean your countertops before you begin cooking so that your kitchen does not appear unappealing to your guests. Also, polish your chairs, furniture, and shelves.
Remove the accumulated dust and stains with a damp cloth. You can also use a general all-purpose cleaner or make your own by combining vinegar and baking soda to create a cleaner paste. Remember to shine your dining table.
3. Polishing of Silver
Polish reflective surfaces and decors such as mirrors and candles. You may also have lovely cutlery that you keep for special occasions. It could have accumulated dust since the last time you used it.
So literally make them shine. Shine up your lovely kitchenware and silver cutlery. This will add a special touch to your Christmas dinner.
4. Schedule Professional Cleaning Services Early
If you are too busy or do not want to handle a cleaning task, you can make it easier by hiring professionals to make your house sparkle clean and ready for the holiday season. If you are looking forwards to celebrating Christmas but want to avoid stress, hiring professionals is one option.
Just make sure to plan ahead of time because the holiday season is also a busy season for Sydney cleaning services. Having cleaners come to your house will not only relieve your stress but will also give you more time to focus on other Christmas preparations.
5. Circulate the House
Before beginning any stage of cleaning, take a quick walkthrough of the house and make a list of what needs to be done in each room. This will make cleaning easier and more efficient. You don't need to waste time deciding what to do because you already know.
If you have someone to assist you with the cleaning, you can also make a list of who will handle which chores. Instead of doing all of the cleanings in one day, spread it out over several days. A Christmas cleaning list will assist you in making your cleaning more organised and efficient.
6. Maintain Your Carpet
Don't take your carpet for granted; it has to deal with a lot of dirt from the moment it was installed. If you are expecting a large number of guests for a holiday, you should take care of your carpet because a dirty and soiled carpet will most likely stand out. That is not what you want.
If you are able, treat your carpet on your own. If dirt remains on your carpet despite your efforts, consider hiring professional carpet cleaners. Professional carpet cleaners have the tools and resources to restore your carpet to its original condition.
7. Clean the Stovetop, Oven, and Refrigerator
Before you begin cooking for Christmas, clean your oven and stove. Cleaning agents are available at the local grocery store that you can spray on, let sit for a while, and then wipe clean. Get rid of any expired items that have been stored in your refrigerator.
Remove any lingering leftovers. Examine each shelf, cleaning and organising them as you go. You'll need a clean fridge and plenty of space to accommodate all of your holiday cooking.
If cleaning the refrigerator, oven, and stove seems too difficult, hire a professional to do it for you. This allows you to focus on developing recipes for the delicious food you'll be serving at the celebration. If you believe you can't fight the grease and grime that has accumulated in your oven, it's worth hiring cleaners to save yourself from stress.
8. Sanitise the Bathroom
Because your bathroom will be used more this season, make sure to clean the floor, wipe down the toilet, and take a shower. Get rid of any stains on the sink and counters.
Disinfecting will save time because there will be no need to scrub. Make sure there is plenty of toilet paper and clean towels available for your guests to use.
Christmas Cleaning After the Holiday Tips
The end of the holiday season can elicit a variety of emotions, including relief, sadness, and satisfaction. But almost everyone shares one major emotion: the overwhelming dread of cleaning up after family members leave and taking down the decorations. Cleaning up after Christmas can be a daunting task, but you are not alone!
If you're wondering, "Where do I begin?" If you're wondering, "How can I stay organised?" then these suggestions are for you. In this blog post, we'll give you 8 tips for cleaning up after the holidays so that your guests don't arrive in January to a cluttered living room.
1. Every Year, Put Things Away in the Same Place
Cleaning up after Christmas is difficult enough. The last thing you want to do next year is to figure out where all of your decorations are. Make a designated space in your basement, garage, or storage facility.
2. Donate or Sell Unwanted Items Before Cleanup Day
We've all received gifts that we don't know what to do with. Sell them online, save them for next year (regifting is perfectly acceptable), or better yet, donate them to a local charity.
3. Avoid a Tangled Christmas Light Ball
Wrap your lights around the empty tubes from your wrapping paper to keep them from tangling. Loop the cord around the roll, beginning on the opposite side of the plug, and then insert the plug into the tube's opening. If you've already discarded your gift-wrap tubes, paper towel tubes will suffice.
4. Use Extra Bins/Boxes/Bags as Needed
You may run out of containers at some point, either because some were broken last year or because Santa brought something new this year! Reuse gift boxes, grocery bags, or other storage containers to help protect your decorations.
Tips
You can protect your fragile decorations with items you already have around the house. Hang your wreaths on clothes hangers, wrap them in a plastic bag, and store them in your garage.
Tuck your expensive candles into an old pair of pantyhose to protect them from scratches. An empty egg carton makes an excellent storage container for small ornaments and other trinkets.
5. Maintain a "To Do" List
That's correct. The best projects always begin with a list; a sort of mental organization.
A list will help you stay organised and on task whether you go all out when decking the halls or simply have a mess from family gatherings. Make a list and write it down before you start on the rest of our Christmas cleaning tips!
6. Purchase Lidded Containers
When you have containers with lids, it is much easier to store decorations. This not only keeps your decorations dry in storage until the next time you want to pull out all of your Christmas decorations, but it's also a simple process that won't give you a headache!
7. Sort by Size
Small ornaments, medium-sized ornaments (such as large snowflakes), and larger items such as lights must all be separated into their boxes. It will make setting up for each holiday much easier if they are kept apart during storage!
Tips
Many ornaments are delicate and must be handled with care. Purchase or make an ornament box with honeycomb separator layers.
Using this method ensures that every item has a home. To avoid mix-ups, wrap extra breakable items in acid-free tissue paper or bubble wrap and keep them in their original boxes.
8. Remove the Tree
Though it's a mainstay in your living room during the holidays, it also takes up a lot of space when you're trying to clean and organise afterwards. If you have a fake tree, gently wipe the branches with a damp microfiber cloth. Allow the branches to completely dry before storing them.
If you used a real tree to decorate, conduct a quick online search to find a location in your area that collects trees for compost. It's a practical and environmentally friendly choice.
Tips
If you have enough storage space and an artificial tree, another age-old trick is to simply cover your tree with a large storage bag. With a quick online search, you can find disposable upright storage bags or bags that you can reuse year after year.
Related article: Choosing Between Domestic and Commercial Bin Hire
It's worth noting that the more thought and care you put into cleaning and storing this year, the easier next year will be. So get a head start on your resolution to be more organised by following our tips for a less stressful Christmas cleanup.