Living in Perth and overwhelmed with household waste? Our residential skip bins are designed for Perth households like yours. Say goodbye to clutter and hello to a cleaner home!
Book a Residential Skip Bin
Enter the world of residential bin hire – the game-changer every Perth homeowner has been waiting for!
Whether you're decluttering, renovating, or just doing a seasonal clean-up, residential skip bin hire in Perth ensures you have a hassle-free experience.
Plus, with the city's unique regulations and waste disposal practices, it's crucial to opt for a service that understands the local nuances.
We ensure that every household client finds what they need.
Why Choose Residential Skip Hire?
Effortless Disposal — No more multiple trips to the dump. Just toss your waste in, and we handle the rest.
Cost-Effective — Think of the time, effort, and money you save. One bin, one fee, zero worries.
Eco-Conscious — We're not just about getting rid of waste. We ensure it's done in the most environmentally friendly manner.
Compliance — Stay in line with local regulations and environmental standards.
Tailored Skip Bin Solutions for Every Home
In Perth, every home has its own story and unique needs. At Coastal Waste, we understand this.
Whether you're tidying up a single room, undertaking a full home makeover, or simply clearing out old belongings, we've got the perfect skip bin for the job. Our goal is to make waste removal straightforward and stress-free for every homeowner.
Choosing the right skip bin can be confusing, but it doesn't have to be. Our team is here to help. We'll guide you to the best option, ensuring you have the right size and type for your project.
With Coastal Waste, you're not just hiring a bin; you're getting a tailored solution that works for your home and lifestyle.
Online Residential Skip Hire
In today's digital age, why should bin booking be old school? Select your skip size, pick your date, and voila! Your bin will be at your doorstep, right when you need it.
We believe in making things simple. With our online book-a-bin system, securing a residential skip bin for your home is just a few clicks away. No hidden fees, no extra charges.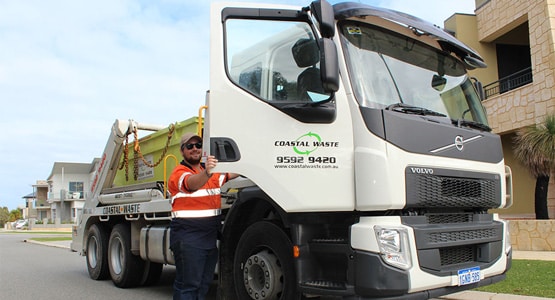 Perth's Quest for Clean Homes
In Perth, where every home tells a story, a clean space matters. It's not just about getting rid of junk—it's about pride, comfort, and peace of mind. Coastal Waste isn't just another service; it's our pledge to keep your home spotless. See why so many families choose us for their residential skip bin needs.
Clutter isn't just messy—it's stressful. A home filled with unwanted items can weigh you down. But with Coastal Waste's residential skip bins, you're not just tossing out trash; you're making room for memories. Don't wait. Clear out the clutter and feel the difference.
Ready for a Cleaner Neighborhood? Contact Us Today!
Perth residents, it's time to make a smart choice. Embrace the convenience, efficiency, and eco-friendliness of residential skip bin hire. Dive into a clutter-free life, and let us handle the waste. After all, a clean home is a happy home!
Our skip bin hire are not just about convenience; it's about commitment. Committed to you, to timely service, and to the environment. Dive into a cleaner, greener way of living in Perth today!
Take the Next Step — Don't let clutter take over your home. Book a bin now and enjoy hassle-free rubbish removal tailored to your household.