Looking for efficient waste removal for your Perth-based business? Look no further. Our commercial skip bins in Perth ensure swift and effective elimination of unwanted rubbish, enhancing your workspace safety.
Book a Commercial Skip Bin
Say goodbye to trip hazards, falls, and injuries. Plus, if sustainability is on your business agenda, our commercial waste disposal methods align perfectly with green building targets.
Every business deserves a waste management partner that's both reliable and efficient. At Coastal Waste Management, we pride ourselves on offering fast and dependable services tailored for worksites, offices, and warehouses.
Our extensive range of solutions ensures that every commercial client finds what they need.
Why Choose Commercial Skip Bins in Perth?
Efficiency — Swift removal of waste, ensuring your business operations aren't interrupted.
Safety — Reduce potential hazards like trips and falls by keeping your commercial space clean.
Cost-Effective — Save on potential fines and reduce waste management costs in the long run.
Professional Image — A clean business environment enhances your brand's reputation and client trust.
Compliance — Stay in line with local regulations and environmental standards.
Versatile Commercial Waste Management Solutions
Every commercial site is unique, and so are its waste management requirements. At Coastal Waste, we offer a diverse range of skip bin sizes and styles, ensuring a perfect fit for every business.
Whether you're dealing with large, cumbersome waste or need regular pickups, our trucks, skip bins, and dedicated drivers are always up to the task. Your schedule, your needs, our commitment.
That's why you'll find Coastal Waste skip bins in a variety of commercial settings:
Warehouses
Offices
Manufacturing Plants
Hotels
Restaurants
Sporting Facilities
Gyms
Schools
Event Venues
…and many more!
Whatever your business type, we have a skip bin solution for you.
Streamlined Commercial Bin Hire Process
We believe in making things simple. With our online book-a-bin system, securing a commercial skip bin for your business is just a few clicks away.
And when it comes to pricing, transparency is our mantra. No hidden fees, no extra charges for credit card payments—just straightforward, honest service.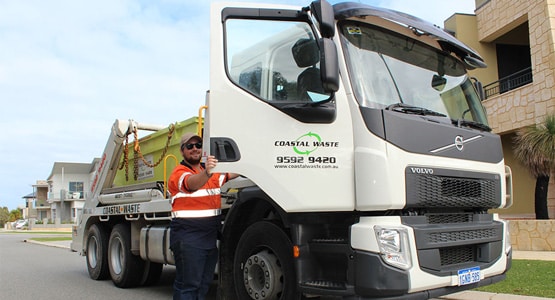 Perth's Call for Clean Commercial Spaces
In the heart of Perth, where business never sleeps, a clean commercial space speaks volumes. It's more than just waste management—it's a statement of professionalism, efficiency, and care. Coastal Waste isn't just a service; it's a promise to keep your business environment pristine. Discover why countless businesses trust us for their commercial skip bin needs.
Every moment wasted is an opportunity missed. A cluttered commercial space isn't just an eyesore—it's a ticking clock, costing you credibility and clients. With Coastal Waste's commercial skip bin solutions, you're not just clearing trash; you're reclaiming your business's reputation. Act now, because tomorrow might be too late.
Ready for a Cleaner Commercial Space? Contact Us Today!
A clean commercial space isn't just about aesthetics—it's about safety, compliance, and reputation. Don't let waste be the weak link in your business operations.
Reach out to Coastal Waste for comprehensive information on our commercial skip bin hire and other innovative waste management solutions. We prioritize recycling and minimizing landfill waste. Together, we can create a cleaner, greener Perth.
Take the Next Step — Don't let waste pile up. Book a bin now and experience hassle-free rubbish removal tailored to your business.