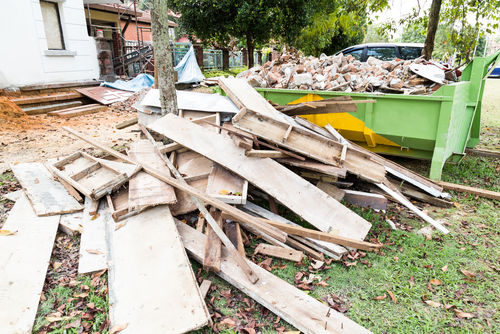 Residential, Industrial and commercial Rubbish Removal Services in Perth
Coastal Waste Management offers fast and affordable residential rubbish removal services across Perth and the surrounding suburbs. Servicing commercial, industrial and residential clients, our tailored rubbish removal services make Coastal Waste the leader in the waste management industry. Whether it is supplying trained personnel to assist with your skip rubbish removal requirements or providing machinery such as Bobcats and Excavators to load our Skip Bins Perth, Coastal Waste got you covered.
Our personalised and hands-on rubbish removal Perth services have kept us amongst the leaders in the commercial rubbish removal Perth industry. If you are focused on environmentally friendly waste removal, we are the only proactive waste recycling company. Book our bins for your rubbish removal work today.
Residential Rubbish Removal Service
It's always good to know that your property is waste-free. Coastal Waste Management provides Perth residents with residential rubbish removal services so that all waste is properly disposed of in our range of skip bins. Here is common residential rubbish that accumulated within and around your house:
Batteries
Aerosols
Light bulbs
Automotive products (fuel and fluids)
Paint, paint thinners, solvents
Household cleaners
Lawn and garden care chemicals
Personal care products
Commercial Waste Management Perth, Mandurah, Rockingham, and more!
As a reliable waste management company in Perth, we operate south of the river, focusing on Mandurah, Armadale, Fremantle, Perth, and Rockingham.
Perth Metro
Perth Southern Suburbs
Perth Northern Suburbs
Perth Eastern Suburbs
Rockingham
Kwinana and the Rural Areas
Mandurah
Peel District
Waroona
Harvey
Lake Clifton
Pinjarra
Dwellingup
Full Coverage Rubbish Removal and Disposal Service in Perth
Struggling to find a way to reduce waste costs while ensuring environmental stability? Why not let reliable waste management companies in Perth do the job for you? Coastal Waste Management provides cost-effective commercial waste management Perth solutions that are efficient, environmentally friendly, and has minimal impact on your business operations using our range of skip bins and a team of professional in rubbish removal works.
As one of the highly regarded waste management companies in Perth, the Coastal Waste team of qualified rubbish removal professionals can safely, quickly, and efficiently remove any waste products. We can remove:
1. Garden/green waste
We will help you manage your outdoor area with professional green waste removal. After landscaping, we remove paving, bricks, trees, shrubs, clippings, and any other waste items that are no longer required.
2. Building rubbish
Office strip-outs; we remove old doors, concrete, piping, computers, printers, filing cabinets, and other unwanted goods.
3. Household waste
If you're struggling to ditch the old electric gadgets, we collect white goods such as fridges and microwaves, as well as old furniture, flooring, carpets, and products from deceased estate cleanouts.
4. Industrial waste
Machinery that no longer works and needs to be effectively and safely disposed of.
5. E-waste
If your office needs the safe removal and dumping of office furniture, fittings, partitions, old computers, and hard drives, we can help.
6. Construction waste
We will collect and clear any surplus materials after renovation, construction, demolition, or road works.  All of the above waste can be removed efficiently along with a range of other waste streams including hazardous and chemical waste analysis & disposal planning.
While these wastes may seem harmless, some may contain toxic materials. Our range of skip bins for commercial rubbish removal service will ensure all waste is safely disposed of and recycled. Book now to get your rubbish managed properly.
Industrial Rubbish Removal Perth
Our industrial waste management services focus on removing rubbish from your work sites, warehouses, factories, and other large-scale industrial locations by managing it in our skip bins and then collecting it from our team. Keep your facilities clean, clear and up to code by hiring our industrial rubbish removal service today. Here are common examples of industrial waste:
chemical solvents
pigments
sludge
metals
ash
paints
sandpaper
paper products
industrial b-products
metals
hazardous waste
food waste
Rubbish Removal Service That You Can Depend On
No more messy verges waiting for the Council to collect your rubbish – simply stack it, order your skip bin, and then fill it up. We can even do it for you! If you are focused on environmentally friendly skip rubbish removal in Perth, Coastal Waste is a Waste Management company and a commercial waste management Perth that you can rely on. No matter the size of the rubbish at home or your company, Coastal Waste will deliver the skip bin on time, fill it for you and once it is filled, we will collect it and sort it for recycling.
Therefore, if you're a development company, shopping mall management, landscaping company, private homeowner, or office manager in Perth who is looking for waste management near me, we offer cheap skip hire, hook lift bins and truck tip service that is convenient and affordable. We're a reliable commercial waste management Perth that has a completely transparent service and offers highly competitive rates, which you are advised in our obligation-free quote. Contact us today for a free site assessment and obligation-free quote.