Wondering how to dispose of your construction and demolition waste in? Our construction waste disposal service in Perth is the solution you need. With years of industry experience, we offer a seamless, reliable, and cost-effective solution for managing and disposing of your construction debris.
We understand the complexities of construction projects and the challenges they pose in waste management. This is why we have tailored our services to mitigate these issues effectively.
Our C&D Waste Services in Perth
Coastal Waste Management provides a comprehensive range of waste management services in Perth. It includes construction waste disposal, construction waste removal, and building rubble disposal. Whether you are working on a large-scale commercial project or a small home renovation. We offer bespoke solutions to meet your specific needs.
We handle all forms of construction waste materials, including:
building rubbles
bricks, tiles, and ceramic
cement and concrete
iron, steel, and mixed metals
copper, bronze, brass, aluminium, lead, and tin
gypsum and plasterboards
sand or soil
wood or timber
cardboard and paper
glass and plastics
and some other
All of these materials will be removed and disposed of with safety, compliance, and efficiency.
Our construction waste removal services are unrivalled throughout the entire Perth metro area. No job is too far or too complicated for our team. To learn more about our service areas, please visit our Service Area page. We have the full scope of our operations across Perth. So don't worry, if your construction/demolition site is in Perth, we are near you.
Why Construction Waste Disposal is Important
The necessity for proper construction waste removal cannot be overstated. Mismanaged construction debris can have a far-reaching environmental impact, contribute to health risks, and carry legal implications for construction firms.
As construction activity in Perth continues to surge, the need for professional building rubble disposal and concrete waste disposal services escalates. Proper waste management is an integral part of sustainable construction, ensuring that materials are disposed of in a way that minimizes environmental harm and promotes resource efficiency.
How We Work
Our approach to waste management is defined by strict adherence to all regulations and guidelines. From construction waste collection from your site, transportation, and disposal, to recycling. But it's not just about that; we go a step further. Recognizing the significance of sustainability in today's world, we've partnered with a leading recycling service provider in Perth, ECO Resources.
This strategic partnership allows us to redirect much of the waste into recycling processes. At the ECO Resources' C&D waste recycling service, the construction waste is recycled and transformed into reusable building materials. Thereby promoting circular economy principles and reducing environmental impact.
From waste collection to recycling, we can provide you with the peace of mind, that your construction waste is being managed professionally, ethically, and sustainably.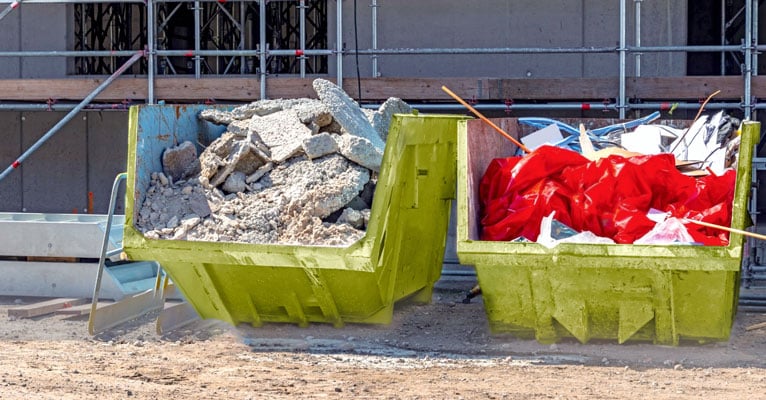 Construction Waste Skip Bin
To further streamline your waste management, we also offer a construction waste skip bin hire service. Our sturdy, high-capacity skip bins are designed to handle all types of construction and demolition waste. We offer a variety of skip bin sizes to suit different project needs. We have flexible rental terms and punctual skip bins delivery and pickup service. Managing your site's waste has never been more efficient.
Establish a Cleaner Construction Site. Contact Us Today!
Are you ready to experience a new standard in construction waste management in Perth? Get in touch with our team today. We're eager to discuss your project's specific needs and demonstrate why we are Perth's go-to choice for construction waste disposal, construction waste removal, and building rubble disposal.