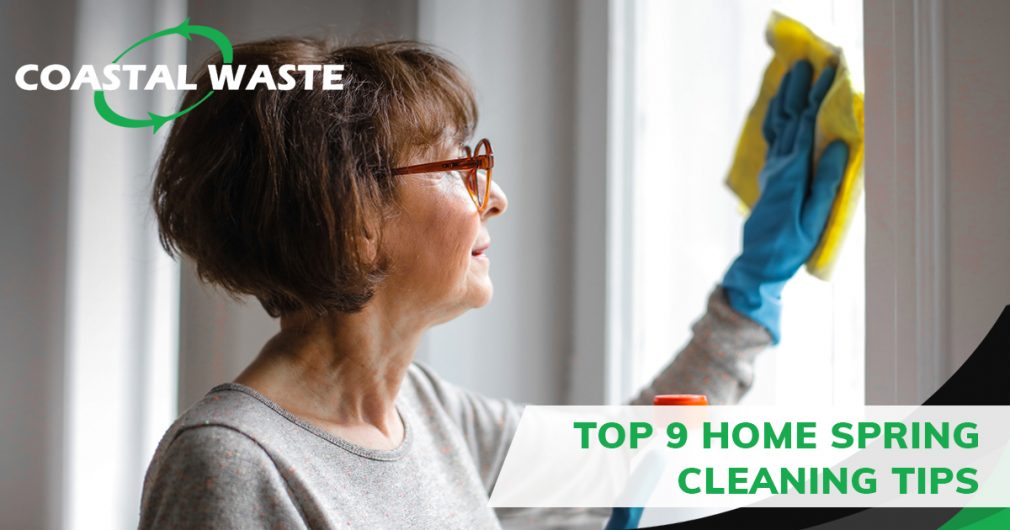 Spring cleaning is time set aside for cleaning a room or entire house during the spring. It's a perfect season or period to organise and declutter your home while disposing of items that you can do without. Simply follow our top 9 allergy-friendly spring cleaning tips and tricks in 2022.
Studies have shown that cleaning or decluttering enhances your ability to focus and has a positive effect on people's daily moods. If you need an affordable and cheapest skip bin hire in Perth, look no further since Coastal Waste Management has an extensive range of skip bin sizes available to collect and dispose of waste items during your springtime cleaning. See below for our top spring cleaning tips:
Efficient Spring Cleaning Tips for Homeowners
Check out our full list of spring cleaning tips to help you get through the bathrooms and kitchens quickly during your 2022 spring cleaning.
1. Spring Cleaning Tips: Collect All the Stuff Materials That Must Go into the Bin
Before you begin cleaning the house, it's best to remove all the items that you want to dispose of. You should get a huge rubbish bag and move it from one room to the other, taking any worn out or broken items and placing them in the rubbish bag.
2. Spring Cleaning Tips: Look for Items That You Can Sell
When you decide to look for items that you do not use anymore in your house, you will be surprised by how many household items will be in good condition. Gather all these items and arrange them properly in a box. You can then later sell them online or in a local garage sale.
3. Clean Your Windows
After you have sorted and gotten rid of all the items you no longer need, it would now be appropriate to engage in cleaning. You will now start to clean the windows that have gathered a lot of dirt and dust. Use a soft wet cloth to wash the glass windows and dry the windows using old newspapers.
4. Clean Your Fridge
Remove all the items that are not fit for eating or have expired. Then clean your fridge using baking soda, which is a more effective and safe cleaning agent.
5. Organise Your Cabinets and Closets
Organize your cabinets and closets by getting rid of or donating some of the items you do not use anymore. You will, later on, be surprised by how much space you will create in your cabinet or closet.
6. Dispose of Clutter in Your Garage
Sort out the items that you want to get rid of in your garage in three groups, namely, those you can sell, and donate, and the ones to be thrown in the trash.
7. Garden Cleaning
Garden waste removal is vital during the springtime since cutting down the dead plant stems will not provide them with a chance to emerge during the period.
8. Use Skip Bin Hire Services
It would be best to hire skip bins to make your spring cleaning more convenient and enhance proper waste disposal. Coastal Waste Management is a reliable skip bin provider in Perth that offers complete and appropriate rubbish disposal services.
9. Don't Forget About Your Air Conditioning
One of the most important and often overlooked aspects of spring cleaning is replacing the furnace and HVAC filters. Replacing a standard filter with a more robust one with a high MERV rating will help you stay healthy as spring approaches. It will catch smaller, bothersome particles.
During the winter, dust accumulates in air conditioner ducts, and upgraded filters capture unwanted particles, preventing them from entering your space. It's a low-cost way to ensure you're breathing clean, healthy air. An air purifier is the best way to ensure healthy spring air free of allergens, indoor chemicals, and odours.
If anyone in your household suffers from allergies or wakes up stuffy during allergy season, installing an air purifier in his or her bedroom will help.
Spring Cleaning Tips: Skip Bin Hire Perth
Coastal Waste Management is a reputable and reliable waste management service in Perth. At Coastal Waste, we provide affordable and cheapest skip bin hire in Perth, with an extensive range of skip bin sizes. Instant skip bin booking is available for a wide range of skip bin sizes.
You can select the best skip bin size from 2m3 to 10m3 that suits your needs. If you search for a 'skip bin hire near me, ' the Coastal Waste Management team will be ready to provide a suitable skip bin to collect and dispose of your residential or commercial waste. For more enquiries contact our reliable support team on 08 9592 9420 to answer any of your questions and provide more information about our services.