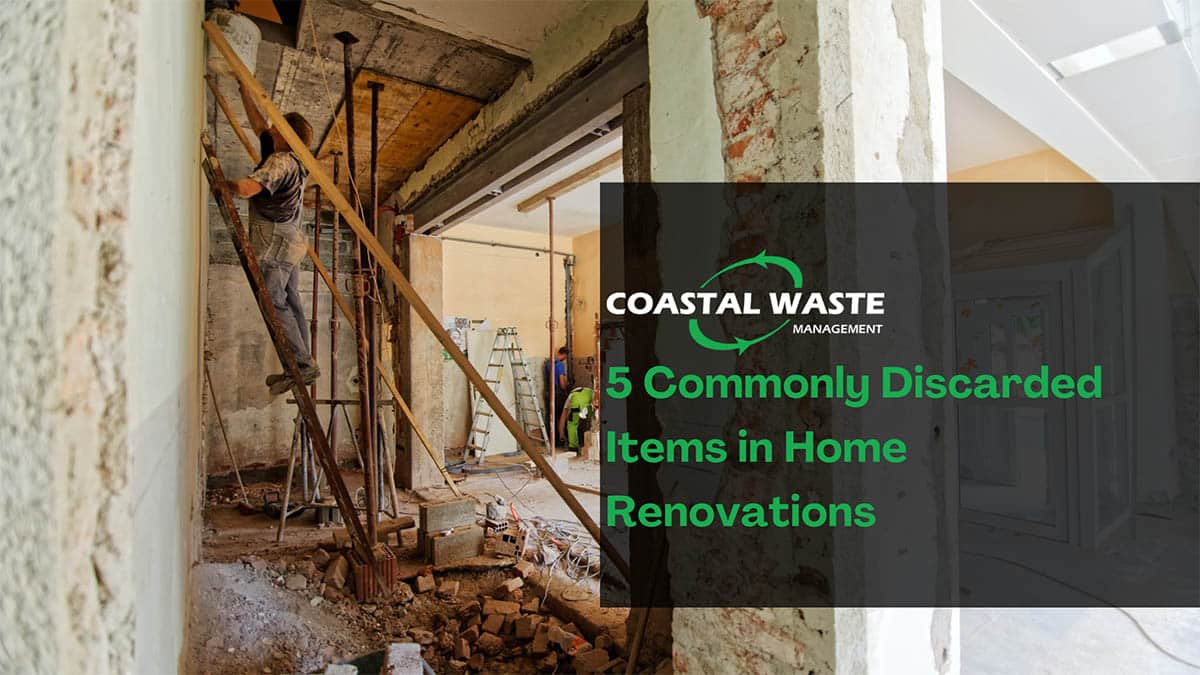 Home renovations are an exciting way to transform your living space and increase the value of your property. However, they can also generate a significant amount of waste, which can be detrimental to the environment if not disposed of properly. As a responsible homeowner, it's important to understand which materials are commonly discarded during home renovations and how to dispose of them safely and efficiently.
In this article, we'll explore the top 5 commonly discarded items in home renovations and provide tips on how to handle them. By following the proper disposal methods for waste materials generated during home renovations, you can not only make a positive impact on the environment but also ensure a successful renovation project.
Building Rubble
Renovation projects involve a lot of work. One common task is breaking down walls or partitions to make more room in your home. This will undoubtedly lead to piles of building rubble such as:
Bricks

Ceramic floors

Concrete

Pavers

Roof tiles

Wall tiles

more
Although bricks and concrete cannot be placed in a general waste skip bin, you can still dispose of them by packaging them separately. Disposal facilities are quite strict when it comes to bricks and concrete. Therefore, you will have to ensure that no other prohibited materials, like soil, are found in skip bins, not even in small amounts.
Green Waste
During a revamp of your yard, you may want to create more space by clearing your garden of plants that are no longer alive or needed. This cutting and trimming lead to a pile of biodegradable green waste such as:
Branches

Clippings

Flowers

Leaves

Plants that have been removed from the soil

Weeds

more on your driveway
You'll have to dispose of them in a garden skip bin that is meant for this type of waste.
Excess Building Materials (Off-Cuts, Dried Paint, and Packaging)
Repainting is an important part of most renovation projects. You can get rid of dried paint by using skip bins. But first, you have to make sure that the excess paint has already been dumped onto a newspaper and dried thoroughly.
The can lid should also be closed and taped. Do keep in mind that liquid paint is not allowed in skip bins. If you fail to comply with the rules, you may end up having to pay additional charges.
Household Items
Some of the most common items that pop up during a house renovation are household items. Seeing them once again might make you want to replace them. Such items that you no longer need or want could include anything ranging from an old mirror to a refrigerator.
Although you may not have any need for it, such things may be able to help another person who is in desperate need. Therefore, if the items you are trying to dispose of are still in good working condition, consider donating them to someone you know who needs them or an organisation that will make sure your old stuff is put to good use.
Mixed Heavy Waste Such as Timber and Steel
Timber and steel are commonly used materials that are used while developing new structures and in renovation projects. If you wish to dispose of excess timber and steel, you can place them in a mixed heavy waste skip bin.
Treated timber such as decking, floorboards, and retaining walls can also be disposed of by placing them in a mixed heavy waste skip bin. Tree trunks that you wish to dispose of in skip bins should always be smaller than 300 mm in diameter and length.
Effortlessly Manage Waste During Home Renovations with Skip Bins in Perth – Book Now!
Are you planning a home renovation project and want to ensure that waste management is handled seamlessly? Look no further than our Perth bin hire. Our team can provide you with a range of skip bin sizes to cater to your specific needs, making it easy to dispose of unwanted materials and debris during your renovation project.
With our affordable and flexible booking options, you can choose a time that suits your schedule and get rid of your waste in one easy step. Don't let waste management be a hassle during your home renovation, book our skip bins now and focus on the project at hand.