Mandurah WA 6210
If you're like most homeowners in the city of Mandurah, then you'll notice that your daily waste piling up each day. It's a common issue that is not always dealt with well because handling general waste daily is time-consuming and often not cost-effective.
However, reliable city of Mandurah skips bin hire services are widely available, with Coastal Waste Management offering our cheap skip bins in Mandurah and skip bins for household rubbish so you can easily handle all of your rubbish removal needs, in a cost-effective, convenient and eco-friendly way.
With our extensive range of city of Mandurah skip bin hire sizes from the mini skip bins Mandurah (2m3) that are perfect for household rubbish removal and green waste to the large hook lift bins which are ideal for construction waste or other large quantities of rubbish, we are positive that our large skip bin hires Mandurah services can give you a lot of help in managing your daily waste. So, if you are looking for a skip bin hire near me, then you know our skips are ready for you.
Additionally, by choosing to use skip bins in Mandurah, you are helping to increase awareness about
recycling because most of the waste will be sent to our facility for recycling
and only the unrecyclable materials will be disposed of in a landfill.
The key benefits of hiring the skip bins Mandurah
Cost-effective – cheap skip bins Mandurah
This is probably the most important benefit that you'll get if you are using the city of Mandurah skip bin hire because, by reaching out to a reputable company, you'll get the right size with the cheap price of the skip bins in Mandurah which will allow you to manage all of your waste in one go, saving a lot of money in the process.
Time-efficient
We believe that your time is very precious, therefore, at Coastal Waste we make sure our skip bins include transportation, meaning that you just sit back and relax while we deliver either large or mini skip bins in Mandurah to the location of your choice, then we pick up the filled skip bin and deliver it to our facility for recycling and disposal in a landfill.
Eco-friendly
As mentioned above, you are helping raise awareness of recycling and waste management if you are hiring one of our skip bins at Coastal Waste. This is because our Perth recycling service follows the principles of the Zero Waste philosophy. We are doing our best to recycle as much rubbish as we can at our facility and only sending the things that are unrecyclable to the landfills.
What can and cannot be put in a skip?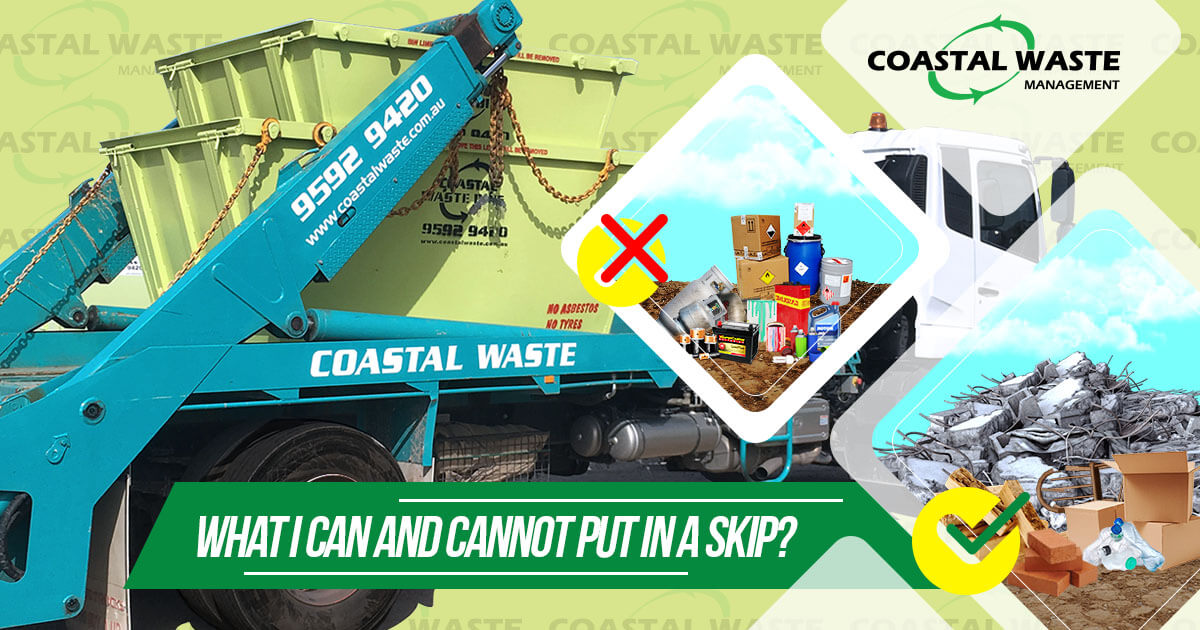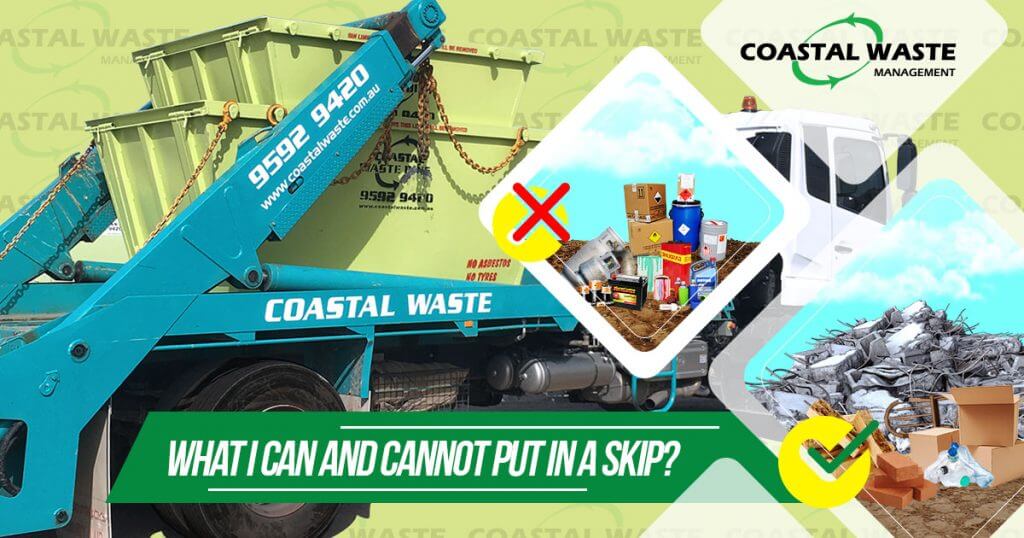 Here is the list of the most common rubbish items that you can put in your skip bin hire Mandurah:
Bricks, rubble, and wood.
Pieces of broken furniture.
Furnishings and non-electrical fittings.
Plastics since can be recycled easily.
Cardboard and plastic packaging items.
Solidified paints.
Uncontaminated soil.
Leaves, branches, and metal.
Now for the items that you cannot put in your skip bins, Mandurah are:
Electrical equipment
Gas cylinders
Asbestos
Batteries
Solvents, fuel, liquids, and paint
Medical waste
Tyres
Mattress
Glass
Hazardous waste
Let's take control of your Waste Management now!
At Coastal Waste Management, our range of skip bins in Mandurah are fully customized and ready to use based on your request.
If you are ready to book a bin now, feel free to call us at 1300 110 132 or you can always use our instant skip bin booking system for a faster, online process.