Are you ready to de-clutter your life and search for the best solution for waste disposal? Look no further! Our Stirling Skip Bin hire services are designed to meet your every need.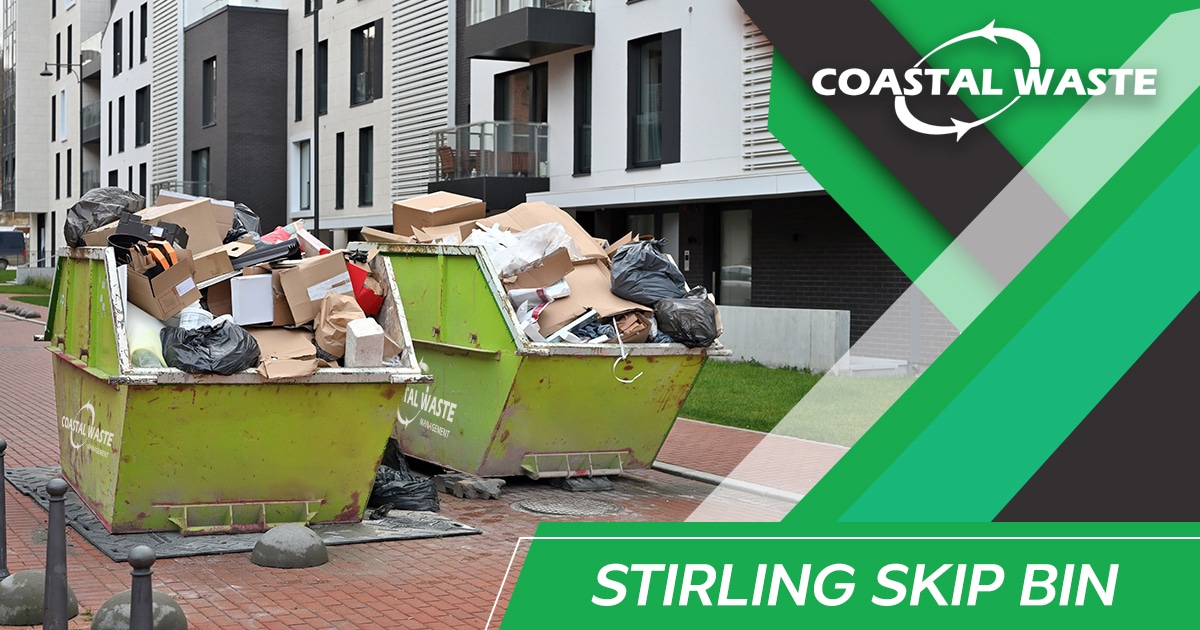 With our extensive range of reliable, affordable, and eco-friendly skip bins in Stirling WA, we make waste management a breeze. We are the go-to choice for residential and commercial projects alike, providing an easy solution for home renovations, construction sites, and routine clean-up tasks.
Affordable Stirling Skip Bin Hire Services
Coastal Waste Management, the specialist in cost-effective skip bin hire in Stirling. We offer an extensive range of skip bins suitable for all waste types – from old furniture, and construction debris, to green waste. Our sturdy, open containers are designed for easy access and easy pickup. Whether you need a bin for a small home clean-up, a major construction project, or other waste removal needs, we have the right skip bin sizes in Stirling for you.
We have made our process as straightforward as possible. You hire one or more of our skip bins based on your needs, fill them up, and we take care of the rest. Our Stirling rubbish removal services include reliable skip bin delivery and collection in Stirling. We help to ensure that your cleanup project remains safe, clean, and organised. By choosing our skip bin services in Stirling, you can focus on your primary task without the stress of waste management.
Acceptable Items for Skip Bins
Regular household garbage
Large-sized household objects
Beds and bed supports
Household seating and tables
Organic waste (wood, treated pine, etc.)
Construction supplies (bricks, tiles, cement)
Unacceptable Items for Skip Bins
Kitchen scraps and leftovers
Rubber tyres and automotive components
Gas cylinders
Harmful materials including asbestos and batteries
Fluid substances such as oil and paint
Refrigeration units and freezers
*If you're not sure if your waste type is allowed in our skips or not, it's recommended to call us first.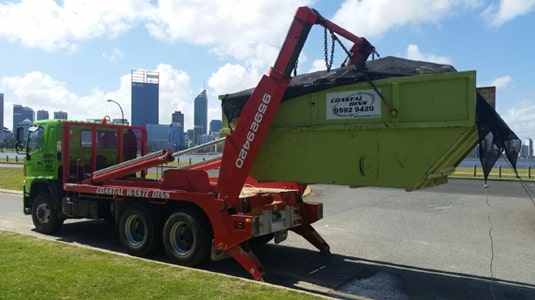 How to Hire Our Stirling Skip Bins
Hiring the ideal skip bin from Coastal Waste is a quick and easy process. Simply follow these easy steps on our website:
Choose your bin size and hire duration using the "Book Now" button below. Wide range of sizes from 2 to 10 metres, accommodating 2 to 12 trailer loads of waste. Standard hire is 7 days, with flexible options available.
Identify the waste type you'll dispose of, including construction waste or garden waste. Special handling is required for asbestos and batteries.
Provide drop-off and pick-up dates, contact, and billing information. Payments accepted include cash, checks, and fee-free credit card transactions. After confirmation, you're set!
Stirling Skip Bin Delivery to Your Suburb
Welcome to Stirling, Perth WA! As a resident of this vibrant suburb, you deserve a reliable and convenient skip bin delivery service tailored to your specific needs. Our dedicated team is here to provide efficient waste management solutions, ensuring that you can easily dispose of your waste without any hassle. Stirling is known for its thriving community and stunning natural landscapes, making it essential to maintain cleanliness and sustainability.
Our skip bins come in various sizes, accommodating everything from household cleanouts to construction projects. With our prompt delivery service, you can rely on us to keep your suburb clean and beautiful. Experience the convenience of Stirling skip bin delivery and enjoy all that this wonderful suburb has to offer while we take care of your waste disposal needs.
Take Charge of Your Waste Management Today
Get in touch with us today, your Stirling skip bin hire specialists, for the most comprehensive, reliable, sustainable, and environmentally friendly waste management solution in the City of Stirling, WA. Make Coastal Waste Management your first choice for a skip hire. We're also partnering with a recycling centre to recycle your waste. Experience the difference we can make in your waste management needs.
We make the process easy for you. Hiring skip bins has never been this quick. Just book a bin with our system in under 3 minutes! Or if you still have any questions, just call us at (08) 9592 9420.
Stirling Area Serviced
Frequently-Asked Questions
How much rubbish can I put in my Stirling skip?
The amount of rubbish you can put in your skip depends on the size you choose. The capacity of each skip is clearly marked on the side for your convenience. Please note that overfilling is not permitted for safety and legal reasons. Our drivers will remove any excess items that may cause issues to ensure a smooth and compliant waste disposal process.
How long can I keep the skip bin in Stirling?
At Stirling Skip Bin Services, our standard rental period for skip bins is 7 days, providing you with ample time to complete your waste disposal tasks. If you require an extension beyond the standard rental period or if you need the skip bin to be picked up earlier than scheduled, simply let us know, and we will make the necessary arrangements.
Is a council permit necessary?
You don't need a council permit for skip bins on private property. But, for placement on public areas like nature strips, streets, or footpaths, a permit is essential. For permit details, reach out to
Stirling City Council
. Want to order or need a quote? Contact us directly!
---
Quick Overview of Stirling
Stirling is a charming suburb of Perth, Western Australia. Its city centre is situated approximately 10 km north of Perth's central business district along the Mitchell Freeway. This mainly residential suburb is governed by the City of Stirling, with the council offices and administrative centre nestled in the southwest of the area. Named after James Stirling, the first Western Australian governor, the area was known as part of Balcatta until 1976 when the name was officially approved due to its role as home to the City of Stirling's council headquarters
The construction of the Mitchell Freeway in the early 1980s significantly boosted Stirling's growth as a regional hub. The development of subdivisions in the region is ongoing. The area is notably graced with lake estates and public parks, including the Stirling Civic Gardens, which contribute to the suburb's verdant appeal​.